Personal Growth
Motivational and Inspirational
THE JOURNEY: FROM DREAMS TO REALITY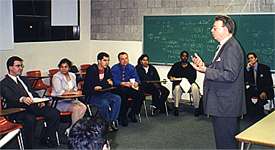 What do you want out of life? Where do you want life to take you? What would make you happier or give your life more meaning? This provocative, inspirational message will enable you to answer these questions by helping you to focus on the value of goals, and the importance of a game plan for life, with a healthy balance of family, career, personal, and spiritual needs.
HOW TO STAY POSITIVE IN A VERY NEGATIVE WORLD


Do you want to do things with your life as opposed to having things done to your life? This motivational presentation will show you how to get "Up" when you get "Down&quot, and learn to stop "Majoring In Minors."
DARE TO BE GREAT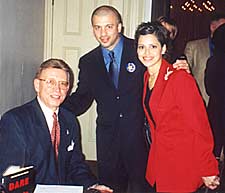 Based on my book, this inspiring presentation is geared to change your way of thinking. You can be anything you want to be! My dream and my challenge to you is "Dare to Begin; Dare to become everything you want to be ...
DARE TO BE GREAT!"
HOW TO SURVIVE IN TODAY'S VOLATILE CORPORATE AND POLITICAL ECONOMIC ENVIRONMENT
Learn the time-tested survival skills necessary to help you manage yourself and your career in an ever-changing corporate and economic environment. This presentation will provide insights on how to read the political "Handwriting on the wall." It will help you develop the required job skills and life perspectives necessary to cope within today's volatile corporate cultures and perspectives. To survive, you must learn to change, and be willing to embrace change. This dynamic workshop will help you learn "The Art of Corporate Culture Assimilation."
SHATTERING THE GLASS CEILING
If you have ever experienced hitting "The Glass Ceiling," this presentation is for you. Gender, age, race, color, or life experience has long prevented people from realizing their dreams, or reaching their life or professional goals. This powerful presentation will primarily focus on encouraging women and minorities to overcome the "Old Boys Network," and reach the highest levels of achievement.
"WHAT'S HOLDING YOU BACK?"
Are there situations in your life that you feel are holding you back from:
Keeping gratifying relationships?

Landing the ideal job?

Achieving the perfect self-image?

Enjoying inner peace?

Progressing in your career?

Gaining financial independence?

Etc…etc…
These issues and others will be addressed in some very insightful, authentic ways to help you recognize, resolve, and take your power back!
"Change that is more than cosmetic"
A WORKSHOP THAT CAN CHANGE YOUR LIFE!
To schedule a seminar call (973) 857-1709


[ Home | Dare to be Great | Business Seminars | Personal Growth Seminars | Mentoring | Teamwork
Public Speaking | Profile of Gerry Tchir | Testimonials | Mary Kay | Business Advisor | Contact Us ]

Copyright © 1999 Creative Solutions Unlimited
WebSite designed and maintained by Applied Dynamic Solutions, LLC