Do you often have too much
month left over at the end of
each pay check?

Do you ever find yourself in
the middle of a "failure to communicate"?

Could you be labeled a "wandering generality" instead
of a "meaningful specific"

Do you often sabotage yourself
by not doing what you are afraid to do?

Would you like to have a written
plan of where you are going and
how you will get there?

Do you ever wish for an "eight day week"?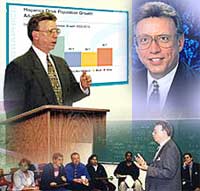 IS YOUR
BUSINESS
FLASHING A
"RED LIGHT"?