Gerald P. Tchir
President, Creative Solutions Unlimited
A professional training & management / marketing
consulting organization.

Where extraordinary face-to-face service is mandatory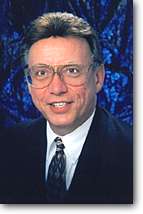 Formerly Vice President and General Manager, CTC, Vice President Sales and Marketing, Business Equipment, Teknika Electronics, and Vice President Dealer Sales, for Hugin Sweda, Inc., a $110 million dollar supplier of Retail Systems.

Gerry has sold hundreds of millions of dollars worth of computerized equipment.
Academically, Gerry holds a Master of Business Administration degree from Fairleigh Dickinson University, Rutherford, New Jersey, graduating Summa Cum laude in the top of his class.

Gerry has also served as Associate Professor at both the Graduate and Undergraduate Schools in the College of Business, Fairleigh Dickinson University, College of Saint Elizabeth, Georgian Court University, and Caldwell/West Caldwell Continuing Education Center.

Gerry has participated in various sales and marketing seminars throughout the United States, the Orient, and aboard Cruise Ships.
Appeared on the WSMB radio network in New Orleans talking about Goal Setting, Time Management, and Self Esteem.
Consulting and Staff Development Workshops at:
AT&T
Automatic Switch
Bell Atlantic
Briad Group
Buck Head Beef
Cedar Grove Public Schools
CEI
Community Medical Center of Toms River
Consolidated Container
Foremost Manufacturing
Grainger
GTS-Welco
Guest Packaging
Hair Systems
Hess Oil
Innovative
Lourdes Hospital
Lucent Technologies
Mack Boring
Mary Kay Cosmetics
MASCO
Morris County Board of Realtors
Nexus Plastics
Open Com
Organon
Paetec
Passaic Valley Sewerage Commission
Pathmark Stores
Quest Diagnostics
Saint Gobain
Simmons
Spencer Savings
Sun Chemical
TFI
Tyco
United Stationers
Vito Mazza
Warner Chilcott
Whole Food
Guest Speaker at the Children of Chornobyl Relief Fund's National
Convention, New Jersey Principals & Supervisors Association Annual
Convention, Morris County Education Association Annual Conference, and
Metuchen Annual Catechetical Congress.

Appeared on Voice of America broadcast to Ukraine and Kosovo.

Keynote Speaker Ukrainian American Youth Gathering, Whippany, NJ.
Author of "Dare to Be Great."
[ Home | Dare to be Great | Business Seminars | Personal Growth Seminars | Mentoring | Teamwork
Public Speaking | Profile of Gerry Tchir | Testimonials | Mary Kay | Business Advisor | Contact Us ]

Copyright © 1999 Creative Solutions Unlimited
WebSite designed and maintained by Applied Dynamic Solutions, LLC